Testimonials
Cliff,
thank you so much for your hard work and patience this week And for buying me dinner every day!!

You're a star.
Sarah
Hey Cliff!!
sorry ive only just got your email ... as for a referance.....
''Cliff is a lovely Down-to-earth Person. His Techniques of Teaching how to drive is top quality! The Benefits of Intensive Driving with him IS the way to go. High Pass-Rate and a pleasure to Learn with! Life Changer! Thank you Cliff!''
Hi Cliff,
Have been meaning to email you for the last week or so but as usual have been caught up with the kids, i just wanted to say a big thankyou for getting me through my driving and thankyou especially for the patience and kindness you showed during my wobbly moments, it made a real difference particularly on the test day. You will be pleased to know that I now have my own little car a Toyota Yaris which is great but is taking some getting used to as it is a petrol so I am stalling again after the comforts of diesel, but can't complain i'm sure I will get used to it.

Hope all is well with you and you are not working to hard. Did your Chinese man get through? Let me know if you would like me to make a recommendation on your website, would be pleased to. Before I sign off and while I remember just thought i'd let you know that on my test I was taken around industrial estate behind Tescos (going left instead of right into Macdonalds car Park) in case this is not a regular part of route?

Thanks again and take care
Sarah
Hi Cliff
Just wanted to say a belated thank you for all you did with Paul and his driving. It has made a huge difference in our day to day life as you can imagine! It was a tricky task to get done after all this time and we really appreciate your discretion, honesty and being flexible enough to meet us half way. Wishing you all the best, keep in touch.

Em and Paul.x
Hi Cliff
I'm afraid this is not a good news e-mail, I'm sure your aware of the trouble occurring between Lebanon and Israeli forces, earlier today, my ship HMS Bulwark received word that we are being turned around from our transit home and heading east to help with the evacuation of British citizens from Lebanon. I'm sure you agree this couldn't have happened at a closer date, I don't know when I'm going to be back our command have estimated a time frame of between 4 – 8 weeks but it is very early days. I will cancel the test, and I will get in touch with you to see about trying again when I can. I'm of course aware about a loss of booking meaning loss of money, but that's the nature of my job, shit that it is, when you get orders, your personal life halts.

Chris

We re-scheduled twice more and Chris passed first time.
Hi Cliff,
Thanks for your mail - I just passed my theory test today and the information/links which you gave me proved to be very useful indeed...so thanks again. I've just had a look on the DSA site to see when the earliest I can take my test is - and the first one is on the 6th Feb and there are several between there and the 6th March. At the moment things are a bit up in the air as my Fiancee is due to have an operation around mid-february time (one of many reasons that I need to be able to drive) and I have a call on Monday with her consultant to try and work out an exact date.
So I thought i'd give you a bit of a heads-up that I am aiming to do my test around the 6th Feb (i haven't yet worked out how to get myself on the cancellation list...but my preference at the moment is 'the earlier the better') and would therefore like to take one of your intensive 7-day courses in the build-up to this. If you could give me an idea of how feasible this is i'd really appreciate it.
For the life of me I can't remember what time this call is on Monday - but I shall be in touch with you shortly after that to see if we can arrange something. Please feel free to give me a call, my numbers are (Mobile) 077.

Kind regards,
Matt.
All things are organisable
Dear Cliff
Just a quick note from me to say thank you ever so much for your patience, support, good humour and good company in getting me through my test. I really couldn't have managed without you.
Charlotte
Hi Cliff
How you doing? had more passes i hope. just been down in Lulworth Cove for the last week visiting friends. Ended up more a bus mans holiday in the end, you know how it is. Got in a car for the 1st time yesterday with my sister, it was horrible all over again. quite scary when you aren't covering the break and clutch for me any more. Just had a quicky to end of road then 3 point turn down side road... Feet started flapping as usual.. I haven't driven 'cause it's too expensive to insure just for a couple of weeks, so i'm going to wait til get to France then go for it again.
My friend had to delay her test in Norfolk as she failed her Theory on the Hazzards.. so another month to take it again I think. I'll keep you informed. back to France next week i think, got a few things to tie up here still.
La xxxxx is my restaurant in Port xxxxxxx, Var is where i am so you can look it up. it really is beautiful. But hasn't got those lovely English fields (full of wine here) or roads...

Thanks again Cliff will keep in contact

kindest Regards
Claudine x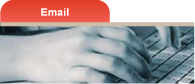 Use the form to send us an email
here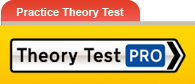 Practice Theory Test
Click here to practice theory test questions online.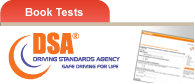 Theory Test
Click here to book your theory test.
Practical Test
Click here to book your practical test.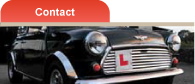 Cliff Barber
Myrtle Cottage
Carhampton
Minehead
Somerset
TA2 6NQ

Telephone:
01643 821 242